Buffalo Jump, Idaho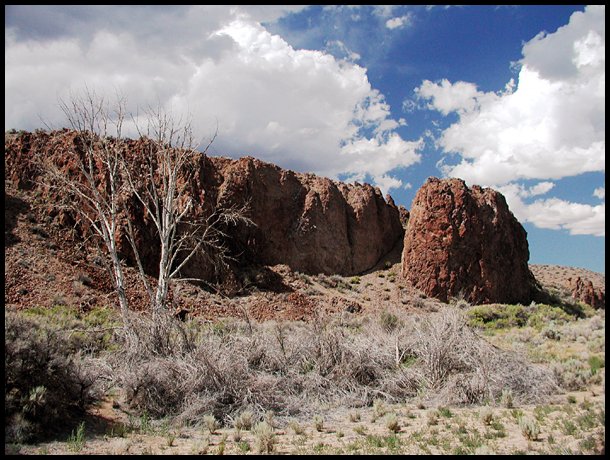 From Boise, Idaho, where I had new tires and crash guards installed, I traveled through the Sawtooth Mountains and along the Salmon River. This is where Native Americans hunted buffalo by driving them off the cliffs in the picture.
A short while past this point, I saw a white fog crossing the road, which instead turned out to be heavy winds and rain. I could not locate the source; the clouds in the area did not seem capable of producing rain. The rain lasted for about a mile and I ran into a clear patch, but ahead was another band. I went back through the first band to a nearby town for lunch and to dry off. After lunch, I saw one small cloud with virga falling from it... it must have been the source.
Waterton-Glacier International Peace Park,
Montana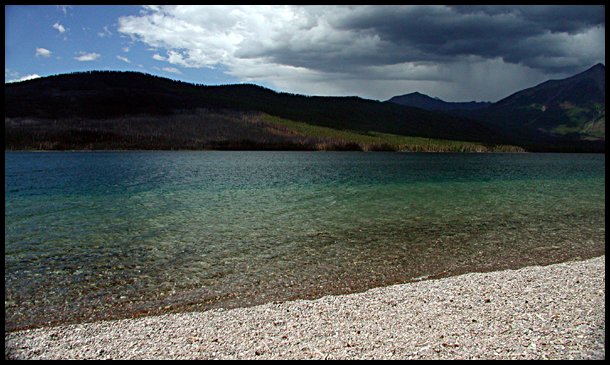 Going-to-the-Sun Road. It is raining ahead. True to its name, I broke out of the rain well before Logan Pass and into brilliant sunshine and clear skies.
Another biker had been through the previous day and experienced the opposite: at higher elevations, the road was completely fogged in.