7-21-04 Missoula, Montana to Pincher Creek, Alberta
The next morning, there was a blue BMW parked next to my KLR. I ran into Reid, the owner of the Beemer. He knew and rode with the owner of Dawson Hotel. Reid pulled out a picture of Dick, the owner. The picture was obtained by sticking a pocket camera through the door of Dick's tent and pulling the trigger. Dick looks frightening: eyes bugged out, hair askew, and mouth opened in a snarl. Reid says Dick can get grumpy. Reid is an electrician with the Detroit Symphony. He knows the San Diego Globe Theater personnel.
I wandered around Missoula at low speed until I found a Best Buy. I wanted to buy additional memory cards for the camera. I was told that Best Buy no longer carried the cards, but that the Staples nearby might have a few. I picked up two additional 128k cards for storage. From there, I found the freeway and drove west for 4 miles, back to the 93. RVs were all over, mixed with trucks, and making for a busy run. The road started climbing, and a mountain range paced me to the right. After going through several small towns, I eventually reached Flathead Lake. I also stopped for earplugs and found that Montana has no sales tax.
It was a nice drive along the lake.

The weather felt cool to cold, like the northern UP of Michigan.

Many scattered cumulus floated low overhead, with gray bottoms loaded with rain.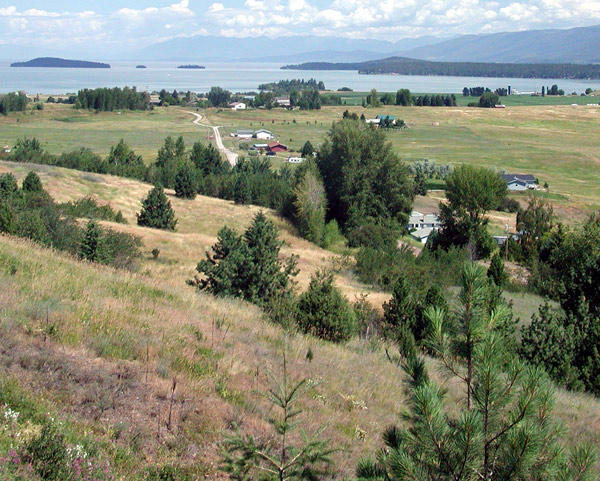 I stopped in Kalispell for gas and lunch. A husband and wife on his and her BMWs pulled in as I was pulling out. I talked to them for awhile. They were also heading north.
From Kalispell, it was a short run to Glacier National Park. At the entrance, I asked the ranger about rain ahead and higher. The ranger said that there was "no rain forecasted".
At a nearby lake, I stopped to take pictures. A husband and wife two-up on a BMW stopped to talk. I told them I had hit rain every day except one. They said, "It's been dry" their entire trip to date. As we left and began climbing, we ran into rain. My bad luck versus their good luck. My luck won. I stopped to pulled on the rain gear with the BMW couple plus two Harley 2-ups. The rain continued about half way up the Going to the Sun Highway, which eventually lived up to its name. On the heights, the road was above the clouds and in bright sunshine.
At one of my stops as I pulled on my Shoie Syncrotec helmet, I heard a "boing" and saw a black object go flying to the side. A piece of my visor was missing.
After looking for a short while, I found the black piece plus a screw. I was able to re-attach the side of the visor without the black piece that flew off.
Going To The Sun exceeded Wheeler Peak Road for views. The road was much more crowded with tourists and shuttle buses contending for the prime view pullouts.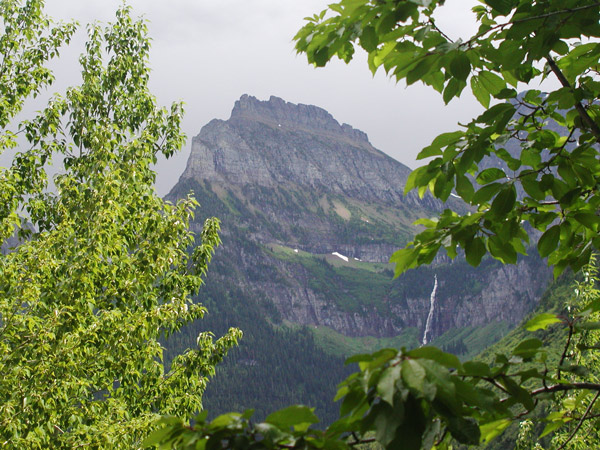 I avoided the crowds and looked for pullouts just past the marked viewpoints.
That seemed to work out just fine. I don't like waiting in lines and I don't like crowds.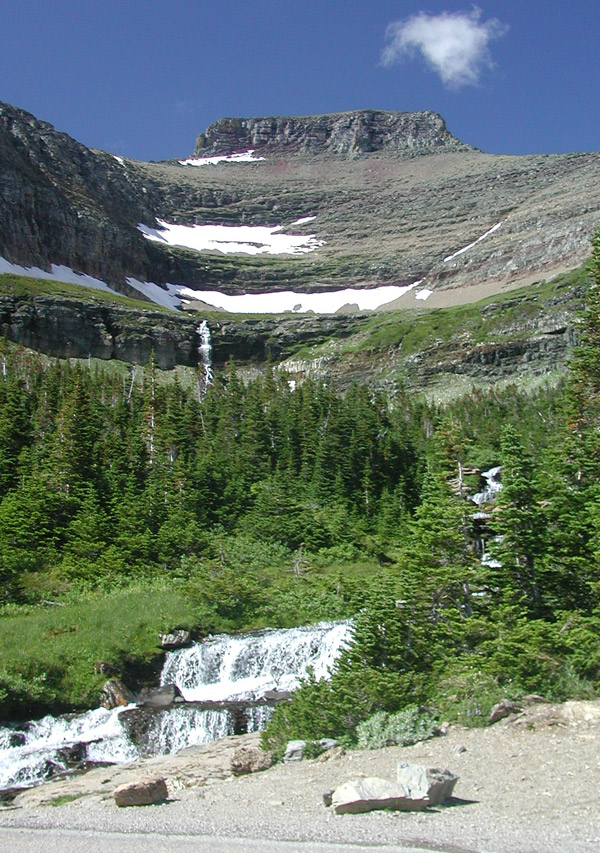 I came out of Glacier on the 89 and headed north.

I intended to stop at a town for gas and a break just prior to crossing the border.
The 89 was empty.

I was surprised after a short drive to pass a

small store with sign saying, "Last chance to buy before crossing border".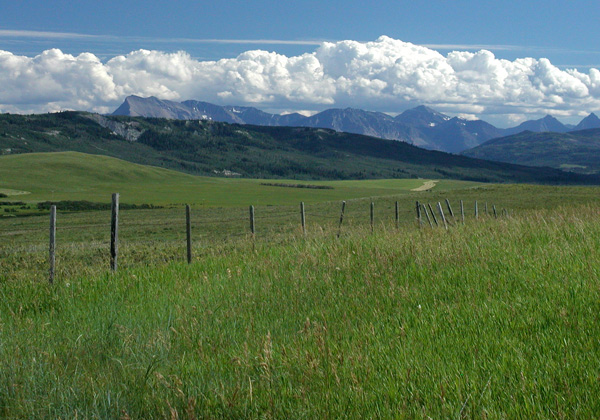 The border crossing appeared shortly thereafter, as another rainstorm approached.
My wallet was in my back jeans pocket, buried under two layers of suit and rain gear. When the border guard asked me for my identification, I told him I'd have to take my pants off to show him. He gave me a nervous look and immediately handed me a yellow slip, telling me to take the slip upstairs into the office. I pulled into the covered secondary inspection area, out of the rain.
The result of the yellow slip was an older officer asking pointed questions and going into an office to type and stare at his computer. After about 45 minutes, he came back out and escorted me into his office. After more questions, "Where were you born", and "What is your purpose of travel", he finally gave me a signed paper to give to another officer downstairs. She looked at the paper and told me to go. The rain was gone by then, so it worked out.
I was now in Alberta, in an area of lush green farmlands set in rolling hills, cut through with vegetation-filled ravines, and with mountains visible on the eastern horizon.
After driving about 15 minutes, I reached a town and stopped to gas up. The attendant had questions about the KLR.

It turned out that he also enjoyed riding motorcycles, and he offered me his favorite route to Pincher Creek, the next town about an hour's drive away. As promised, the route was empty, rural, and scenic. I also hit another rain storm.

I finally turned on to one leg of his suggested route, RR 800, which fortunately took me north away from the rain. Unfortunately, the 800 dead ended into a road not included in the instructions. Figuring west by north whenever possible, I kept on, slightly lost and completely alone. The road finally ended at an intersection, with a sign pointing to Pincher Creek. In the last light of evening, I arrived at the town limits. The first motels I checked were all booked. I turned into a third hotel as two other travelers arrived, and beat them to the desk. I got the last private room and bath. The others were offered hostel accommodations.

However, I ended up in the basement, where a short stretch of rooms were dug into the ground beneath the main hotel structure.

After unloading the bike, I walked across the street and had a late dinner at a Ukrainian pizza place.


I was off the map. I needed to figure out where I was going. According to Paul, the BMW driver parked next to me, I was also less than half way to my goal of the Arctic Circle, which impressed me both with the amount of distance I had come and the amount of miles still to go.

Pincher Creek had an authorized Kawi dealer. I would try to get my scheduled maintenance done in the morning.